Iroquois Memorial Hospital Prompt Care Proudly Celebrates 10,000th Patient Visit
Admin
February 22, 2023
/
5 mins read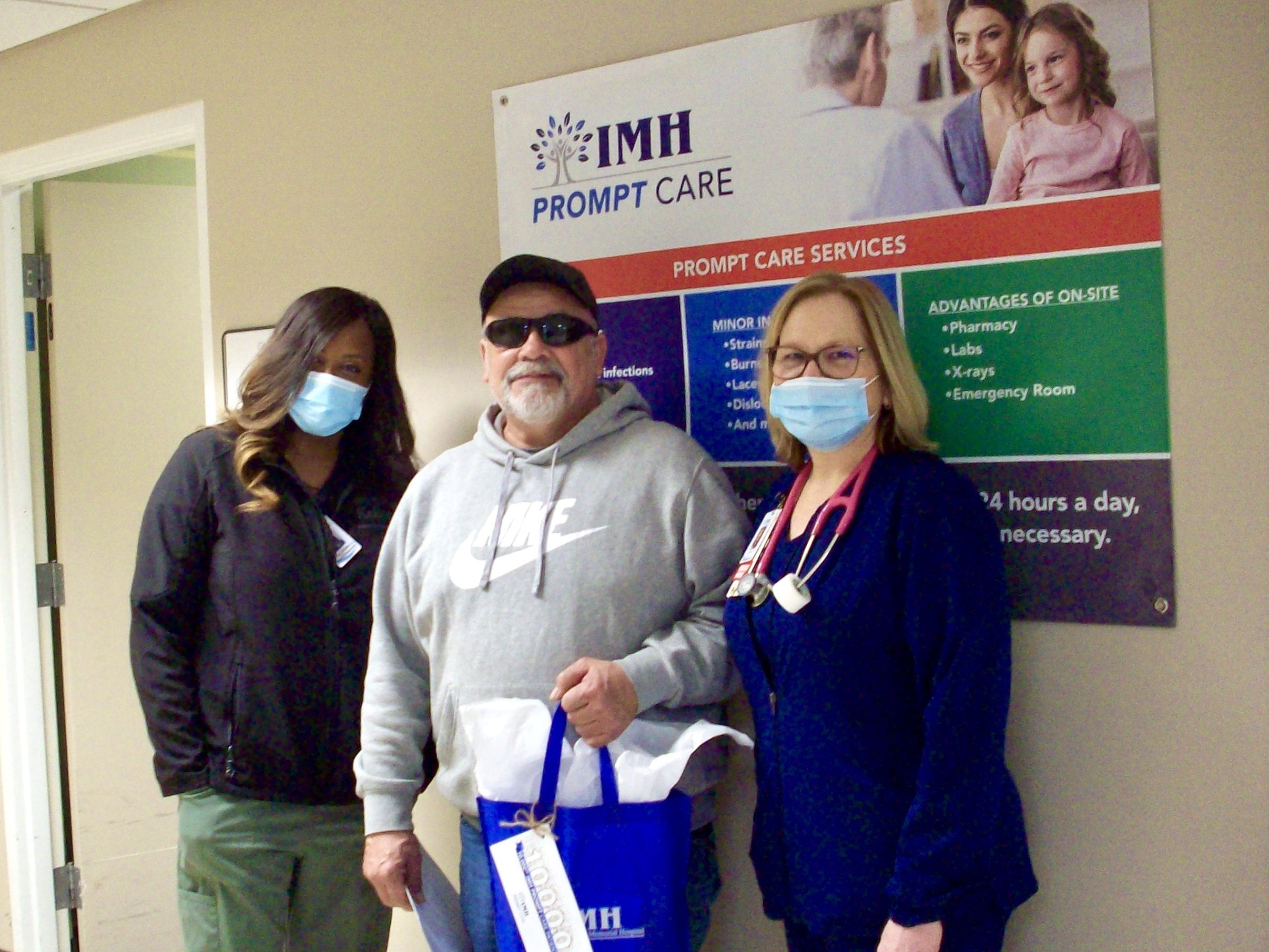 Watseka, IL - Throughout 2020, Iroquois Memorial Hospital saw the community's growing need for after-hours healthcare services to treat patients of all ages for minor illnesses and injuries. So, on November 9, 2020, the 24/7 all MD staffed IMH Prompt Care opened its doors to the public. Each patient who visits IMH Prompt Care receives quality, one-on-one care from highly skilled professionals, and with great success, they recently celebrated treating their 10,000th patient, just two short years later. Danielle McGee, MD, and Jayme Lottinville, RN, BSN, were on staff when the 10,000th patient, Victor Cardenas, Jr., came on Saturday morning, February 11, 2023. Victor was happy to be the 10,000th patient and staff presented him with an IMH gift bag to show him their appreciation for choosing IMH.
Providing the benefits of both a primary care clinic and an ER without the ER cost, our MDs are always here to treat a wide range of minor illnesses and injuries, even if you have never been a patient at IMH. This includes but is not limited to infections, lacerations, sprains, and dislocations. Just in case your illness or injury is more serious than you initially thought, IMH Prompt Care is located directly adjacent to the 24/7 Emergency Department, making IMH the one-stop location for all of your healthcare needs, along with on-site pharmacy (during normal business hours), labs, and testing.
"Prompt Care's success over the past two years is a testament to the support and dedication of the people in this community. This service is thriving and now plays a vital role in providing a convenient healthcare option for families around the clock, whether local or visiting from out of town. We thank you for your continued support of IMH and are eager to continue expanding services to meet your needs," says Michelle Fairley, IMH Chief Nursing Officer.
You can utilize this convenient service by coming to the South entrance of Iroquois Memorial Hospital's main campus. To learn more, visit imhrh.org or call 815.432.7762.